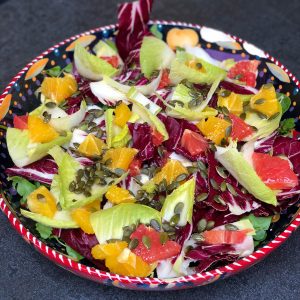 Most of you know this as chicory but it's also known as endive. It's bitter and colourful and works brilliantly with the sweet juiciness of the orange and the creamy, crunchiness of the pumpkin seeds.
This is a wonderful winter salad providing vitamin C from the oranges, iron from the spinach, vitamin K from the endive and fibre from nearly all the ingredients.
Took me less than 10 minutes to make – it's bitter and sweet, juicy, crunchy and colourful. Simple and delicious. Try it
Video Recipe coming soon.