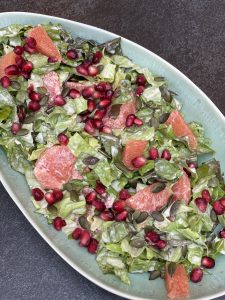 Lettuce takes centre stage in this delicious salad. The lettuce is the main ingredient not just a filler – so make sure you choose fresh, crunchy lettuce. Mixed with tangy Pink Grapefruit, vibrant pomegranate and crunchy pumpkin seeds and topped with a Marie Rose Dressing – It tastes as good as it looks.
Lettuce provides Vitamin K, Beta-Carotene, and Manganese. Manganese is required for effective wound healing, as is Vitamin C, which is provided by the pomegranate seeds and pink grapefruit.
If you enjoy this salad as much as we do, I'd love it if you could leave a comment below.
Thanks,
Judianne