If you would like this recipe…. write a comment below and I'll email it to you. Then subscribe to the newsletter on the front page of this website to get all my subscriber only recipes as soon as they are released.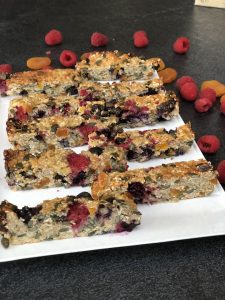 These flapjacks are a great on-the-go snack – eat them for breakfast, a morning or mid-afternoon snack or anytime you fancy a delicious healthy snack.
The oats and banana provide energy, the apricots and pumpkin seeds provide iron & the raspberries provide Vitamin C and they taste delicious.
Once cut,you can wrap them individually and freeze them so they're ready when you fancy one.