This granola is a crunchy delicious breakfast made from oats, seeds and nuts that contains lots of different vitamins and minerals.
Just in the pumpkin seeds you'll get protein, omega-3, vitamin K, iron and copper (to name a few)
This home-made version contains less sugar than most, with just a little maple syrup to add some sweetness.
It also has a secret ingredient… egg whites which adds extra protein.
Served with yoghurt and fresh fruit, this granola makes a great breakfast or snack.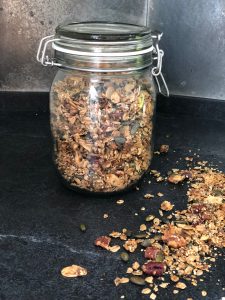 If you would like the recipe for this granola follow the link below