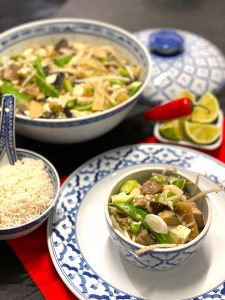 We all like different flavours and types of food. My daughter and eldest aren't fans of curry, my husband doesn't like tofu, my son is vegan … they're a hard bunch to please!
So I knew that this Thai Green Curry wasn't going to be for everyone and sometimes that's ok.
I loved it, as did my husband (with the tofu swapped for salmon or chicken – he loved both versions) and my son did too …so that was success as far as I was concerned. My eldest tried it and agreed that it was actually ok. We're getting somewhere…..
Anyway here's the recipe for you to decide if it's one for your family or not.