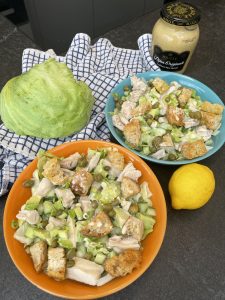 If you follow me on social media then you'll have seen this Chicken Caesar Salad cropping up quite a bit recently. It's currently on repeat on my weekly meal plan & it's been a popular choice in lessons too.
It's great with leftover roast chicken (no wasted food) or salmon instead of chicken (just poach for less time) and my vegan son enjoyed his with chestnuts (although that was a bit random and I'll work on with a better protein option for him!)
We're not huge fans of anchovies, so I didn't include them but if you are……just add them.
If you'd like the recipe….. it's available in my Subscribers Only Area. Just subscribe on the front page of the website and you'll be sent a password to access this recipe and some others that are only for my subscribers.
Hope you enjoy it as much as we do. Please let me know if you do.
Judianne