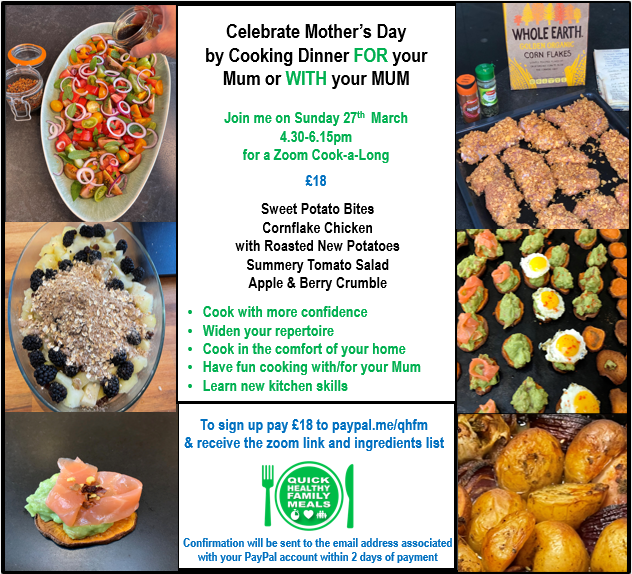 Would you enjoy cooking with your mum/mother-in-law/child as a Mother's day treat?
Or would you like to cook a delicious dinner for her as a treat?
Or would you just like to join us for a fab cook-a-long where you'll learn to make some delicious healthy food?

Well….our next Cook-a-Long, is on Mother's Day, Sunday 27th March from 4.30-6.15pm

We will be making: –
1) Sweet Potato Bites – Delicious canapes that disappear almost as soon as you put them out! Topped with guacamole – they are creamy bite sized and delicious
2) Cornflake Chicken – KFC healthy baked fakeaway (can be made vegan)
3) Roast New Potatoes – super simple accompaniment to your chicken
4) Summery Tomato Salad – A colourful salad made with sweet tomatoes and a slightly spicy crunchy breadcrumb topping – bring on Summer!
5) Apple & Berry Crumble – the well-loved dessert you know but with a little less sugar and fat

Of course anyone can join, whether you're cooking for or with your mother or not!
and if you have any questions, please message me at judianne@quickhealthyfamilymeals.com

If you'd like to join us, do sign up.
Just transfer £18.00 to paypal.me/qhfm and PLEASE leave your email address…I'll email you the list of ingredients and utensils that you need and the zoom link

Hope to 'see you' there
Thanks,
Judianne