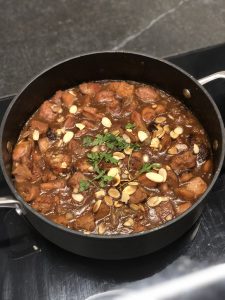 I made this Chicken Tagine with Prunes and Apricots in one of my Cook-a-Longs and the feedback was amazing…. everyone LOVED it!

It takes about 10-15 mins to prep then you just leave it to simmer for about an hour and you're left with a sweet, delicious creamy Tagine.

Serve it with bulgur wheat and some spinach stirred through at the end.
It provides satiating protein, fibre from the dried fruit and iron from the dried fruit, spinach, bulgur wheat and chicken.
.
It's only available to my subscribers, so if you're a subscriber……just type in the password that I sent you and its yours. If you're not yet a subscriber… just sign up on the front page of my website and you'll get access to this lovely recipe and all the other subscriber only recipes.